https://www.commoninterests.com/wp-content/uploads/2013/04/Transparent-Logo1.png
0
0
Robert Goellner
https://www.commoninterests.com/wp-content/uploads/2013/04/Transparent-Logo1.png
Robert Goellner
2019-12-23 12:30:07
2019-12-23 12:31:25
Continuing our Holiday Donation Tradition in 2019

As a member of the advisory board for the InvestmentNews ESG & Impact Forum, I helped to judge the film festival we presented at the event. We're proud to present the films we selected below.
The Bee Rescuer This film won the Judges Choice award!
Directed by: Bidit Roy. Amit Godse, otherwise known as The Bee Man, founded a social enterprise, Bee Basket, which rescues bee colonies from urban areas.
I have a personal connection to this one. My family keeps bees in partnership with friends who live in Lancaster County, PA. We've lost a number of Bee Hives over the years for various reasons, and bee conservation is a subject near and dear to my heart.
The Story of TRU Colors This film won the Audience's Choice award!
Directed by: Meagen Verdi & Akeem Grady. How one company is driving change in Wilmington, NC by hiring a workforce composed of only active gang members.
After this film was shown, we had the privilege of hearing from the filmmakers and one of the gang members in this film. It was one of the most powerful experiences I've had, and it reinforced to me the impact that investments can make. The Audience Choice award was well deserved!
POKO'S STORY
Directed by: Michael Schmidt-Olsen. Poko, a farmer in northern Ghana, learns new farming techniques to combat the devastating droughts and brushfires caused by climate change that are ravaging the region.
Lever
Directed by: Stephen Lamb. ESG investing strategies are a way to align values with investments, but don't necessarily effect change. A look inside the powerful force of shareholder activism.
One Island
Directed by: Mitra K. Bolouri Rasmussen. A look inside a small Danish island that is run 100% with renewable energy.
Cesar's Workshop
Directed by: Robin Pogorzelski. An army veteran from Rwanda who lost his leg to the civil war now makes his living by serving others.
BIOME – Harvesting Rain
Directed by: Travelling Tripod Films. This film showcases the positive impact of BIOME Environmental Trusts' work in government schools struggling with water availability in rural Bangalore, Karnataka, India. The project is funded by Wipro Cares.
Leafy Greens
Directed by: Stephen Lamb. An exploration of impact enterprise. Can businesses succeed with the dual motives of profit and purpose?
Grow Your House
Directed by: Andrés Klimek & Sergio Donis. This film shows how bamboo can be used to construct houses in a low-cost and dignified way for people living in poverty.
The Soapmakers of Samabogo
Directed by: Hannah Stanton-Jones & Tadg O'Keeffe. In the southern plains of Mali, a group of intrepid women entrepreneurs has come together to form a collective of soapmakers, enhancing the lives of themselves and their families.
Igniting Impact Trailer
Directed by: Akira Chan. Igniting Impact is a short documentary featuring entrepreneurs who are creating impact by aligning with the United Nations' Sustainable Development Goals (SDGs).
InvestmentNews also has these videos on their website as well, with more information about the event.
https://www.commoninterests.com/wp-content/uploads/2019/12/ESG-Impact-Forum-Film-Festival-Image-scaled-e1576701839211.jpeg
1395
2560
Max Mintz
https://www.commoninterests.com/wp-content/uploads/2013/04/Transparent-Logo1.png
Max Mintz
2019-12-19 09:58:33
2021-01-24 14:02:21
Watch the Official Selections of the ESG & Impact Film Festival!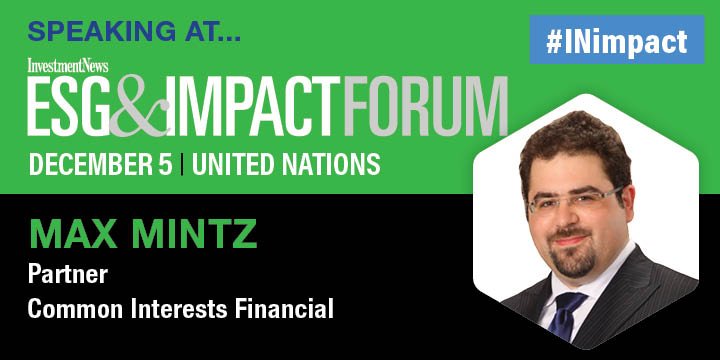 https://www.commoninterests.com/wp-content/uploads/2019/10/MAX-MINTZ_ESG-Impact-Twitter.jpg
360
720
Robert Goellner
https://www.commoninterests.com/wp-content/uploads/2013/04/Transparent-Logo1.png
Robert Goellner
2019-12-13 16:59:36
2019-12-19 13:49:46
Hear from Common Interests in the news