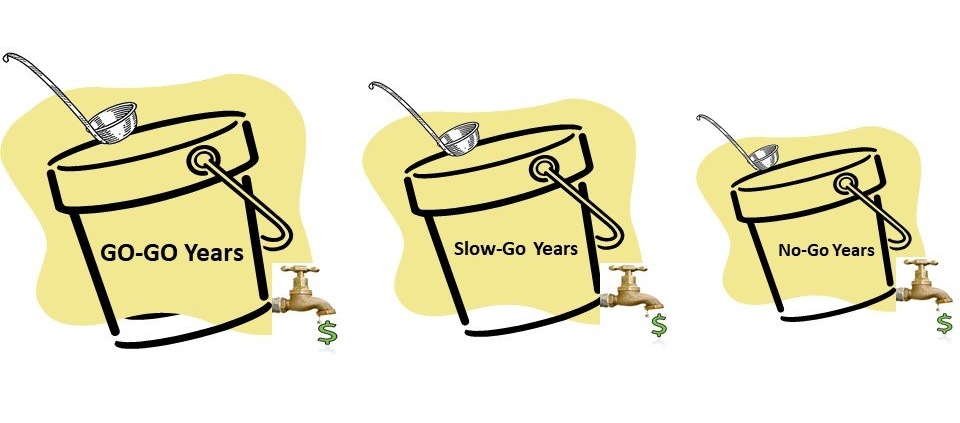 We all need to face the fact that with modern medicine plus the desire of many people to stay active and fit that the length of our retirement, once we start it, is probably going to be a lot longer than it was for previous generations!
Let's take a look at the current mortality tables and see what we learn.  A male 65 has a life expectancy to live to 82.2, but if he does his life expectancy now goes to age 88.9 and if he gets there his life expectancy is now 93.2!  You Go Guy! A female age 65 has an expectancy of 84.9, then it goes to 91.3 and then, lord willing, to 95.4!  You Go Girl!  The essential thought here is that we stand a good chance of being retired for a long long time!  And, we better be prepared for that!!
The secret, in our mind, is to set up and tend to your Money Buckets.  Yes, buckets, and there need to be at least three of them!  Sometimes a fourth is appropriate, depending on the retiree's goals.  Let's look at each bucket and its purpose in the big retirement picture.
Bucket # 1: Holds money for the early years of retirement: traditionally age 65 – 75. This bucket's first job is to SUPPLEMENT the fixed portions of retirement income such as Social Security and Pension payments and any other regular guaranteed income streams. This bucket has a FAUCET from which is taken a steady stream of money so that the retiree's make ends meet each month. Its' second job is to have enough additional money so that all of the newly retired pent up needs get met: that could be painting everywhere, installing new everything, taking that long-awaited cruise, etc. Each bucket will have a DIPPER just for this purpose: dipping out some cash for "needed" items or adventures. Important thought: It Is OK if this bucket is empty when you get to Bucket # 2! That thought is LIBERATING!  That means that you and an enjoyable early retirement during the GO GO YEARS!
Bucket # 2: Holds money for the middle period of retirement: traditionally ages 75 – 85.  Its job for the first 10 years is to grow.  This takes advantage of time, compound interests, and market cycles.  When it is time to open its FAUCET it too will supplement the income stream from Social Security and Pensions, etc.  Its job is the same as the first bucket, making ends meet.  It too has a DIPPER, but it is more for emergencies and opportunities: to pay for the first and facilitate the second.  These are the SLOW GO YEARS!
Bucket # 3: Holds money for the LONGEVITY ISSUES. There are several jobs, potentially, being done by this bucket.  First, is the overall concern about paying for Long Term Care. Not a happy thought, but it will help preserve the rest of the money for Legacy and Philanthropic plans which would be a second reason for this bucket.  A third reason would be to generate an income for this period because by then buckets number 1 and 2 may have run dry.  Frequently people also want this income guaranteed for life for both of the spouses.  In other words, and income that neither of them will ever outlive.  This is done with an Annuity and often the Annuity can also take care of the Long Term Care needs, or a portion of them, as well. These are the NO GO YEARS!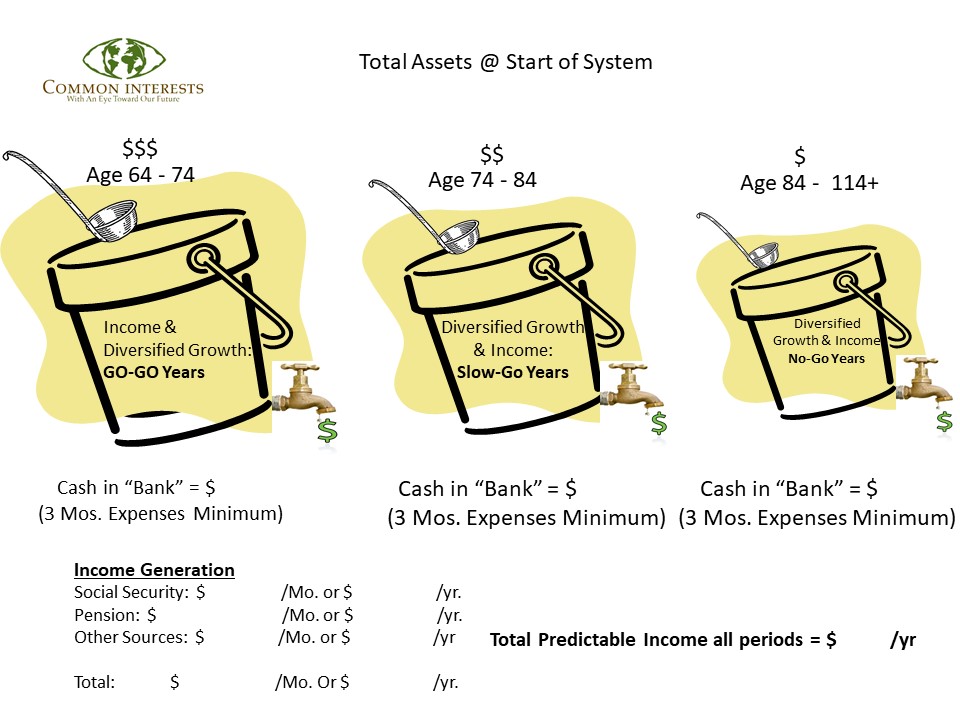 Of course, each bucket has to be designed to meet the RISK TOLERANCE of each person. This system gives us more flexibility – because there are several buckets, we can manage each differently because their respective jobs are different and the last two have a long 'runway' before they are needed.
The diagram above will help you sort this all out and clearly depict the job, and the respective size of each bucket.  I hope this helps, and feel free to call us with any questions, thoughts or observations you may have!
https://www.commoninterests.com/wp-content/uploads/2019/05/3-Buckets-Retire.-Plan-Featured-Image-e1557862555325.jpg
578
960
Robert Goellner
https://www.commoninterests.com/wp-content/uploads/2013/04/Transparent-Logo1.png
Robert Goellner
2019-05-15 08:08:23
2019-05-15 08:08:25
Building Your Retirement Income "System"