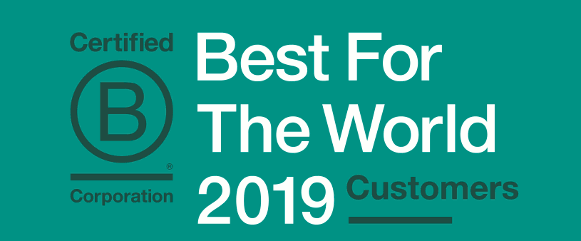 Common Interests recognized as a "Best For The World" B Corp for exceptional impact on our customers
Common Interests, a Certified B Corporation, has been named a Best For The World honoree for the fourth year in a row in recognition of our work to improve the lives of our customers through the use of our services. Ranking in the top 10 percent of all 3,000 B Corps for our positive impact on our customers, Common Interests earned this honor because our investments promote public benefits, and are designed to solve social and environmental issues. Through our recent Impact Report, we have shown the real impact our clients' investments have made on the world. We are leading by example in the financial services industry to inspire other firms to enable their clients to align their investments with their values. Through our impact targeting project, we have focused our investments on improving health, preserving the environment, creating economic opportunity for individuals and communities, and increasing the flow of capital to purpose-driven enterprises. Our firm was also recognized for our innovative fee structure which enables us to serve underserved populations. Through this award, B Lab shows how companies like Common Interests set a gold standard for how business can be a force for good for people around the world.
Best For The World recognition is administered by B Lab, the global nonprofit that certifies and supports Certified B Corporations, which are for-profit companies dedicated to using business as a force for good. Today there are 3,000 Certified B Corporations across 64 countries and 150 industries, unified by one common goal: to redefine success in business.
"We are proud to be honored as Best For The World for the Fourth year in a row" said Bob Goellner, managing partner of Common Interests, "This award is evidence of our efforts to mindfully design the impact of our investments and not turn people away. I founded this firm to empower the financial wellness of our community, and this recognition is confirmation that we are serving this purpose."
B Corps meet the highest standards of verified social and environmental performance, public transparency, and legal accountability to balance profit and purpose. B Corp Certification doesn't just evaluate a product or service, it assesses the overall positive impact of the company that stands behind it—like Common Interests. Using the B Impact Assessment, B Lab evaluates how a company's operations and business model impact its workers, community, environment, and customers. To achieve the B Corp Certification, a company must achieve a score of at least 80 points on the assessment.
"We're incredibly proud of this year's Best For The World honorees," says Anthea Kelsick, Chief Marketing Officer of B Lab. "These inspiring companies represent the kinds of business models and impact-driven business strategies that are building a new economy—one that is inclusive, regenerative, and delivers value to all stakeholders, not just shareholders. To that end, B Corps like Common Interests are redefining capitalism and showing that it actually can work for everyone."
1,000 B Corps from 44 countries were named to the 2019 Best For The World lists, including Patagonia, Beautycounter, Dr. Bronner's, TOMS, Seventh Generation, and Greyston Bakery. The 2019 Best For The World honorees are determined based on the verified B Impact Assessments of Certified B Corporations. The full lists are available on https://bcorporation.net/.
https://www.commoninterests.com/wp-content/uploads/2019/08/BFTW-2019-Customers-Color.gif
241
581
Max Mintz
https://www.commoninterests.com/wp-content/uploads/2013/04/Transparent-Logo1.png
Max Mintz
2019-09-04 09:15:00
2019-09-04 09:13:20
Common Interests recognized as a "Best For The World" B Corp for exceptional impact on our customers